HOLIDAY CD & BOOK SALE

–

now through January 6, 2017

If you'd like to share our CDs and books with your friends and families, our holiday sale makes it easy!

We offer free gift wrapping and autographs. If you'd like this gift wrapping option, or an autograph, please include a note with your order to this effect (and be sure to tell us what to say in the note!). If you'd like us to ship gifts directly to the recipient, just include their address in the "Ship To" section of the order form.
---
CDs:
On hyper-sale (is that a word?): the 4 CD set 300 Gems of Irish Music for All Instruments for only $4.99, reduced from $19.99. That's only 1.7 cents per tune, and each CD is chock full of them.

This is a great learning resource for anyone who plays traditional Irish music, and
makes a fine stocking-stuffer

. On these discs I play 300 of my favorite traditional Irish tunes on Irish flute, tin whistle and concertina. I have a pile of these CDs on hand, and they're itching to leave home and be of use!
If you live outside the US, shipping costs and import fees may be quite high. You might want to buy the downloadable version instead of the CDs, all 300 tunes for $9.99. No fees or shipping costs, and no waiting.
The matching book, 300 Gems of Irish for All Instruments, now on sale at a
20% discount

, contains the sheet music for all of these tunes.
---
We're offering lots of CDs for $9 (and even less in our CD bundles).
This includes all the recordings I've done with Cindy Kallet, André Marchand and Paddy League. You may listen to many of the tracks for free when you click these links.
I'm very excited about my still quite new album with Cindy Kallet, Welcome Day.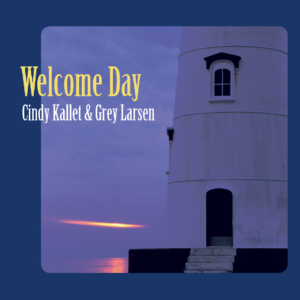 Here's what two people have to say about it:
"Such beautiful singing, melodies, and musicianship. The arrangements and production quality are over the top excellent."
Jim Krause
"I just want to say I think it's a masterpiece. Every song is a jewel and The Starry Cliffs a symphony. The production is perfect. I really, really love it."
Bill Preeper
To listen to two of the two Irish trad. selections from the album, click the play buttons next to "The Starry Cliffs" and "Hawks and Geese" on this page.
---
Books:
All six of my Irish music books are now 20% off, and book bundles are 25% off.
Free excerpts of these books are always available.
Considered a classic by many, my first book (480 pages), The Essential Guide to Irish Flute and Tin Whistle, has sold well over 9,000 copies, and has been translated into Chinese and Russian. (Those are not legal versions … but it's nice to know the book is in demand. If you know of other translations, please let me know. ) This guide has been acknowledged as the most comprehensive book, by far, on traditional Irish flute and tin whisltle playing.
A slimmer version of this book (187 pages), one customized just for whistle players, is The Essential Tin Whistle Toolbox. It offers all the tools the beginner, novice, and intermediate whistle player needs in order to progress to a high level of competence in Irish music.
The two "150 Gems" books, designed for flute and whistle players, are unique among Irish tune collections. They offer tune-specific suggestions for breathing/phrasing as well as ornamentation, and introductory chapters that address these crucial wind-specific issues. You may see for yourself by downloading free excerpts of 150 Gems of Irish Music for Tin Whistle and 150 Gems of Irish Music for Flute.
300 Gems of Irish Music for All Instruments, combines the tunes from the two "150 Gems" books (see above) with "bare-bones" transcriptions suitable for all instruments (i.e. no wind-specific ornamentation or breathing marks). For recordings of all 300 tunes, for $4.99 you can get the 4 CD set, or for $9.99 the set of downloadable MP3s.
Down the Back Lane: Variation in Traditional Irish Dance Music explores a rarely-addressed topic, giving an intimate view into the intuitive musical mind of a flute and whistle player. At the heart of the work are recordings (on the included CD) and meticulous transcriptions of eight traditional Irish tunes, each played three times through and with plentiful variations, along with analysis of those variations. Also extensive information on ornamentation, phrasing, articulation, dynamics and more. Free excerpts here.
… and eBooks:
All these books come as eBooks. eBooks are nicely discounted when you purchase them by clicking the blue buttons on this page. A great way to avoid shipping costs and waiting time.
---
Another gift Idea:
INTERNET GUITAR LESSONS with CINDY KALLET
My musical partner, Cindy Kallet, has started offering guitar lessons via Skype and has been delighted at how much fun they can be. If you or someone you know might be interested, please feel free to contact Cindy. She's happy to offer gift certificates and can e-mail a sheet of useful information about how it all works. Any level except complete beginner welcome. These lessons can be scheduled in whatever way the student desires: one-time, intermittent or regularly scheduled.
---
May we all find new reservoirs of kindness and hope in the coming year.
Wishing you peace and joy,
Grey