Casey Burns Flutes
We recommend and sell all of the Casey Burns flute models. This includes his keyed flutes, and flutes in a wide variety of pitch levels. If you interested in purchasing one, please contact Grey to make arrangements.
Grey performs and records with low-pitched Burns flutes in C, B-flat and A (alto). Click below to hear Grey playing a Burns low A (alto) flute on the song If You Say Yes from the CD Cross the Water.
The Folk Flute


You may order Casey's very popular Folk Flute directly in our store, without contacting Grey first.
The Folk Flute plays beautifully. Its intonation and response are excellent, its tone is wonderful, and it is very comfortable to hold and play. At $450.00 USD, it is an excellent value.
It is available in Turkish Boxwood (as pictured above), Mopane, or African blackwood. (All three woods are pictured below.) When you order, please let us know your wood preference.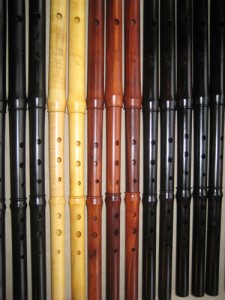 Here you may listen to Grey playing the Irish reel The Torn Jacket (composed by Connie O'Connell) on a Folk Flute.
When you order your Folk Flute from us, Grey receives a sales commission. This helps support his work in writing flute and whistle instructional materials. Your flute will get to you at the same time, regardless if you order through us or through Casey Burns, and the price will be the same.
Note: It may take 60-75 days before we can ship your Folk Flute to you. Demand has been quite high. More than 1000 of these flutes have been sold since 2004.
What is the Folk Flute, exactly: a three-piece wooden flute for playing traditional music, nothing more, but nothing less. The new three-piece design allows rotational adjustment between the left and right hands.
This flute is designed for:
beginning wooden flute players
beginning Irish music players
whistle players getting a "first flute"
younger flute players
experienced players with limited budgets
experienced players who want a fine instrument for travel
players who want a great instrument with a proven track record
A beginner should have access to an instrument which:
has a traditional conical bore, made of well-proven tonewood
speaks easily, with a strong low D
has correct intonation
is simple and attractive in appearance
The Folk Flute is a solid and correct traditional instrument. It features the same acoustical design as Casey Burns' more expensive Standard Model Flutes, voiced and tuned with the same degree of care and attention, using exactly the same reamers and processes. The Folk Flute plays just as well as his more expensive models. Each Folk Flute is unique and will only gain character and depth of tone with age – as will all traditional wooden flutes.
Three different finger hole-spacing options are available:
Ergonomic Standard
Small-Handed
Large-Holed Standard
When ordering, you will be able to specify which option you prefer.
What the Folk Flute is not, and never will be:
a replacement for a professional performance instrument
made out of synthetic materials or "furniture woods" with poor tonal qualities
What doesn't come with the Folk Flute, and isn't offered as an option:
hard-shell case, end cap, rings, tuning slide, keys
customization of any kind

Buy a Folk Flute here.
For more information on the Folk Flute, please see Casey Burns' Folk Flute page.