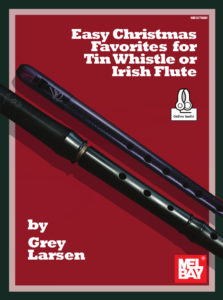 Here are some materials related to the book Easy Christmas Favorites for Tin Whistle or Irish Flute, including a major supplement, Carols in Alternate Keys. Details on that supplement are shown below.
Buy the physical book or an eBook.
If you are new to the tin whistle, have questions about it or need help with your playing, I recommend you consult my book First Lessons Tin Whistle. It offers valuable insights as well as thorough instruction for beginners. If you are new to the Irish flute, I recommend working with my book The Essential Guide to Irish Flute and Tin Whistle.
A Supplement, and Some Exercises
This collection of Christmas carols, arranged for tin whistle in D or standard Irish flute, is a supplement to the book, Easy Christmas Favorites for Tin Whistle or Irish Flute.
In that book, each of the 30 carols are presented in just one key. However, it is possible to play 24 of them in an alternate key — in fact one of them can be played in two alternate keys — while still satisfying the criteria that makes them easy to play on tin whistle and Irish flute. This supplement provides these additional Christmas carol arrangements, in standard music notation, tablature, and with audio recordings.
On the recordings, Cindy Kallet plays guitar accompaniment while Grey Larsen plays a Session Whistle in D from Carbony Celtic Winds or an Irish flute. The chords you hear on the recordings are shown in the music notation.
• Exercises for Finger Coordination for Tin Whistle and Irish Flute
Featuring standard music notation as well as tablature, with audio files included.
Available in six note-naming systems from around the world: US (Latin Alphabet), Sargam, Jianpu (modified), German "H" Nomenclature, Fixed Do Solfège (also known as Tonic Sol-Fa) and Movable Do Solfège
38 exercises for finger coordination and synchronization, composed and performed by Grey Larsen, as well as introductory and explanatory text covering finger movement, notation and other matters. The ability to move various combinations of fingers in precise coordination and synchronization is essential for good tin whistle and Irish flute playing. These exercises are designed to aid in the development of these skills, which call for moving not only combinations of fingers of one hand or the other, but often fingers of both hands, and sometimes in opposite directions
Free Downloads
Videos – Tin Whistle