Michael J. Kennedy (1900-1978) was a musician from Flaskagh, near Dunmore in County Galway, Ireland, near the County Roscommon border. In 1923 he immigrated to Cincinnati, Ohio, USA, and soon settled across the Ohio River from Cincinnati in Covington, Kentucky.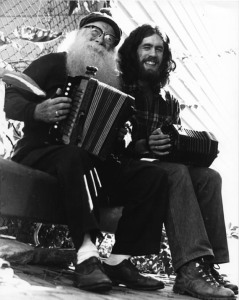 Michael played a Hohner melodeon, a one-row button accordion, in the key of G. He was Grey Larsen's first major mentor and teacher in traditional Irish music.
Michael played an unusual repertoire, comprised exclusively of the traditional tunes he had learned as a youth, between 1900 and 1923, within a ten-mile radius of his home farm. He had never traveled beyond this small area before emigrating to America.
Michael Kennedy's 1977 LP
In 1977 an LP of Michael's playing was released on June Appal Records, entitled Michael J. Kennedy/Melodeon – 65 Years of Irish Music. It has long been out of print, but you may listen to it for free here, and view images of the front and back cover of the LP.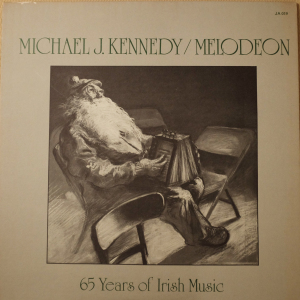 Michael was very proud of this recording. To accompany its release he wrote an autobiographical narrative, which was included inside the LP's sleeve. You may view it here, in Michael's own hand.
More Audio
Here are a few more MP3s from a field recording that Grey Larsen made in 1973 at Michael Kennedy's apartment in Covington, Kentucky.
The Connaught Man's Rambles "on a higher key" (Jig)
The Merry Harriers "on a higher key" (Reel)
In His Own Words
Listen to Michael Kennedy speak about his youth in Ireland, and about the tune "The Cuckoo's Nest" (as well as the bird itself).