Joe Dawson (1928 – 2012) was an old-time fiddler from south-central Indiana, one of the last, it seems, to have grown up completely immersed in the traditional music and culture of the region.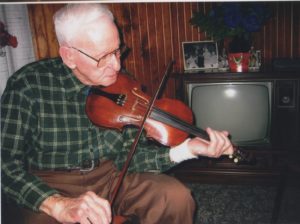 Joe was born in Bedford, Indiana, into a very poor family. When he was 10, his father died in an accident and the family could not afford to stay together. Joe moved in with his maternal grandparents, who lived on a farm near Elkinsville, while his mother and sister moved to a single room in a Bloomington boarding house.
Growing up on the farm, Joe learned to work the land with a pair of horses. He and his grandparents grew, raised, hunted and bartered for almost everything they needed, and cut and hewed oak railroad ties by hand in the forested hills. The farm straddled the Monroe and Brown County line, and was submerged when the Lake Monroe reservoir was created in the 1960s.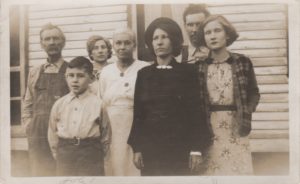 Joe's grandfather, Jasper Chambers (born in the 1870s), was a fiddler, and upon Joe's arrival at the farm started teaching Joe to play. They shared a fiddle that cost $5.00, a large sum for the cash-poor family.  Joe's repertoire consisted of the tunes his grandfather and other relatives taught him, plus many that he learned from others living nearby. Many of these tunes seem to be unique to Monroe and Brown Counties, and Joe's settings of more widely-known tunes are distinctive, often differing in key, rhythm or melody from versions in the common old-time repertoire. Joe had a resonant bass voice, and from time to time would sing songs that he learned from his grandmother, Ida Chambers, a fine singer and reed organ player as well as a respected midwife.
Joe Dawson playing "Old Ben" (2003)
Joe Dawson playing "Black Mountain Rag" (2003)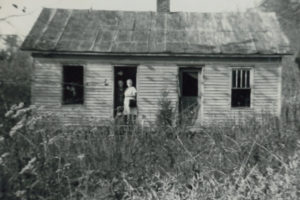 Joe later worked in the Showers furniture factory in Bloomington, survived heavy trench combat in the Korean War, and returned home to continue farming and to become a meticulous master carpenter. He helped craft many of the buildings that are well-known in Bloomington today. When Beck Chapel was being built on the Indiana University campus, Joe was hired to hand-hew the exposed oak beams. He did the job by hand all right, but he made the beams so perfectly smooth that he was called back in to "rough them up," to get the rustic look they were after.
Joe built a house near Adel, in Owen County, where he lived for several years with his wife Lela. They raised pigs and chickens while Joe continued his carpentry work. It wasn't long, however, before they moved into Bloomington's Prospect Hill neighborhood where Joe lived for more than 40 years. Lela passed away in 1990.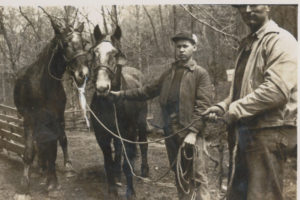 Joe Dawson singing "Best Old Man in the World" (2003)
Joe Dawson playing "Sally's Got a Meatskin Laid Away to Grease Her Wooden Leg Every Day"(2003)
Joe Dawson playing "Tennessee Wagonner" (2003)
Grey Larsen befriended Joe in 1999, and over a dozen years devotedly learned the fine nuances of his music. Joe, like his grandfather, played with only the first three fingers of his left hand, resulting in swoops and slides between many of the notes. This, along with Joe's bowing style, combine to impart a singular personality to the music.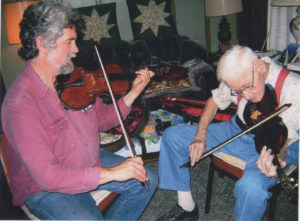 Joe's tunes are by turns soulful, lyrical and high-spirited. Old-time musicians would call almost all of them "crooked," which means the phrasing of the music is rhythmically asymmetrical, and unpredictable to those who don't yet know the tunes. It's great for improvisational clogging and flat-footing, though too free-wheeling for most social dancing, unless a square dance caller is willing and able to accommodate the twists and turns of the music.
For years Joe hosted weekly music gatherings in his living room which were attended by many locals, as well as musicians traveling through who had heard of Joe and were eager to meet him and hear his music. Cherry pie and vanilla ice cream always marked the end of the evening's festivities, and Joe made sure that everyone signed his guestbook before leaving. Visitors included well-known old-time fiddlers such as Alan Jabbour, Bruce Molsky and Bruce Greene.
Grey made many audio recordings of music and conversation in Joe's living room in Bloomington. He cataloged these recordings, as well as ones others had made (about 50 hours of audio in all), and donated them to the Indiana University Archives of Traditional Music. The collection also includes photos, video and many documents. It represents one of the most important offerings of local traditional music in the Archives' holdings.
The collection is not yet available for online streaming and viewing (we will update this page when it is), but its materials are now available to those who visit the archives in person. However, the archives is in a state of transition as it is moving to a new location with Indiana University's Bloomington campus. Hopefully by the fall of 2023 it will be fully functioning and open to visitors. You may view information about the collection here.
Here is Grey's transcription of "Old Tom Kittypuss," showing Joe's bowings and unusual fingerings. This is a version of "Miss McLeod's Reel," which was popular in Ireland as early as 1779. It was first published in Scotland in 1809, in Nathaniel Gow's Fifth Collection of Strathspey Reels, and identified by him as a reel from the Isle of Skye. The tune is widespread among American old-time musicians and is know by many titles, including "Hop High Ladies," "Did You Ever See the Devil, Uncle Joe," and "Cake's All Dough."
---
Grey Larsen and Cindy Kallet have recorded several of the tunes they learned from Joe:
Grey Larsen and André Marchand have recorded a waltz they learned from Joe:
---
Here is a video of Grey Larsen and Cindy Kallet, in concert in Lyons, Colorado, performing three traditional fiddle tunes from Joe's  repertoire. The first is a waltz, while the second and third are faster tunes. Before they play, Grey gives a lengthy introduction about Joe and these tunes. The music beings at 4:21. (The correct name of the third tune is "Indian Ate the Woodcock.")