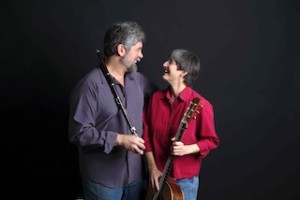 Grey Larsen gives concerts and workshops with guitarist and singer Cindy Kallet. At their duo website you will find music, video, press information, program offerings and much more.
Booking information can be found here.
To see and hear them play, sing, and reflect on their music, watch the video, "Meet Cindy Kallet and Grey Larsen."
Cindy and Grey were interviewed by National Public Radio's Andrea Seabrook for the program All Things Considered. You may listen to the interview here.
Individually well-known and loved for their decades of music making, Cindy and Grey have been performing together since 2004. Cindy is a superb singer, guitarist, songwriter, and multi-instrumentalist. Grey is one of America's finest players of the Irish flute and tin whistle, as well as an accomplished singer and concertina, fiddle, piano and harmonium player. As composers each has contributed to the tapestry of contemporary folk and world music as it flourishes in America today. Their songs and tunes are woven with vibrant color and rich texture.
Scott Alarik of The Boston Globe calls Cindy "…one of folk music's most respected songwriters… provocative, heartwise, and original …a brilliant guitarist… ". Mike Joyce of The Washington Post calls Grey "… a gifted multi-instrumentalist who consistently demonstrates his melodic finesse," while The New Mexico Daily describes his playing as "positively spellbinding".
The duo's repertoire includes Cindy's sparkling original songs, distinctive settings of traditional Irish music, Scandinavian fiddle duets, old-time fiddle tunes from southern Indiana, and new music that Cindy and Grey invent together. There is plenty of variety and breadth of musical territory here, all deeply rooted in folk traditions, and interwoven with the renaissance and baroque counterpoint in which both Cindy and Grey, coincidentally, were immersed while growing up. Included are vocal duets, guitar, Irish flute, Irish alto flute, tin whistle, concertina, harmonium, and duet fiddling, and plenty of stories that put the music into a personal context.
In 2007, Cindy and Grey released their widely-praised first duo recording, Cross the Water, followed in 2015 by their second, Welcome Day. In 2010 they released the CD single and video, Back When We Were All Machines, a playful, humorous look at the serious subject of our modern paradox of human connection and disconnection.