Casey Burns Flutes
We recommend and sell all of the Casey Burns flute models. This includes his keyed flutes, and flutes in a wide variety of pitch levels. If you are interested in purchasing one, please contact Grey to learn more and to make arrangements.
Grey performs and records with low-pitched Burns flutes in C, B-flat and A (alto). Click below to hear Grey playing a Burns low A (alto) flute on the song If You Say Yes from the CD Cross the Water.
---
The Folk Flute
PLEASE NOTE: Casey Burns is happily taking orders for Folk Flutes. The current waiting time is two to three months. If you need one in a hurry, please contact Grey and we'll see what we can do.
The Folk Flute plays beautifully. Its intonation and response are excellent, its tone is wonderful, and it is very comfortable to hold and play. At $500.00 USD, it is an excellent value.
At this time it is available in African Blackwood only.
Here you may listen to Grey playing a Folk Flute on the Irish reel The Torn Jacket (composed by Connie O'Connell).
Here you may watch Grey demonstrate Folk Flutes with both the Standard Ergonomic and the Small-Handed finger hole spacing options. See "Hole Spacing Options" below for full details on these options.
When you order your Folk Flute from us, Grey receives a sales commission. This helps support his work in writing flute and whistle instructional materials. Your flute will get to you at the same time, regardless if you order through us or through Casey Burns, and the price is the same.
What is the Folk Flute, exactly: a three-piece wooden flute for playing traditional music, nothing more, but nothing less. The three-piece design allows rotational adjustment between the left and right hands.
This flute is designed for: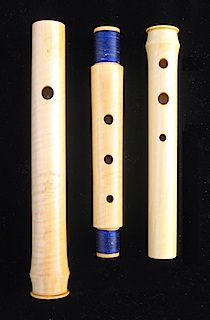 beginning wooden/Irish flute players
whistle players getting a "first flute"
younger flute players
experienced players with limited budgets
experienced players who want a fine instrument for travel
players who want a great instrument with a proven track record
A beginner should have access to an instrument which:
has a traditional conical bore, made of well-proven tonewood
speaks easily, with a strong low D
has correct intonation
is tunable
has right and left-hand sections which can be offset relative to each other
is simple and attractive in appearance
The Folk Flute is a solid and correct traditional instrument. It features the same acoustical design as Casey Burns' more expensive flutes, voiced and tuned with the same degree of care and attention, using exactly the same reamers and processes. The Folk Flute plays just as well as these more expensive models. The bare-bones approach to its design makes the low price possible. Each Folk Flute is unique and will only gain character and depth of tone with age – as will all traditional wooden flutes. 
Why buy a Folk Flute when less expensive plastic flutes are available? One primary advantage of wood over plastic is that the voice keeps getting more and more amazing as the instrument ages and is played in, like any decent wooden instrument. This simply never happens with a plastic flute. The wood adds something complex and lovely to the sound that is lacking in some plastic instruments. Wooden flutes are easy to care for, similar to other common woodwinds such as recorders and clarinets.
Hole Alignment Options
Ergonomic
"Ergonomic" means that there is a slight bit of offset for the 2nd and 3rd holes for each hand. This helps tremendously by making the flute more comfortable to play. With respect to the 1st fingerhole, the 2nd hole is rotated about 1mm or less away from the palm of the hand while the 3rd hole is offset 1-2mm toward the palm. The 5th and 6th fingerholes are increasingly offset by 1 and 2mm or more towards the palm with respect to the 4th hole. Essentially the fingerholes are arranged in slight arcs which correspond to the usual arrangement of fingertips. This option is the most popular one for Folk Flutes as well as Casey Burns' more expensive flutes. If you are a fingertip player, especially with small hands, "Ergonomic" is the best choice.
In-line
"In-line" means that no finger holes are offset from the center line. In other words, the three finger holes of each section are arranged in a straight line. (Of course the upper and lower flute sections, each having three finger holes, may be offset relative to each other.) Some traditional players cover the finger holes with the lower pads of the finger joints ("piping style"). For these players, "in-line" is the usual arrangement. Players with medium to long fingers can be comfortable with either In-line or Ergonomic alignments.
​Hole Spacing Options (see videos above)
Small-Handed. Casey Burns started addressing the needs of smaller-handed players as far back as 1985, and iteratively developed flutes that are comfortable to one's hands with the narrowest finger spacings available in the Irish Flute market. Distances between fingerholes (measured center to center) range from 29 to 32mm on the Small-Handed flute and from 32 to 35mm on the Standard flute. If your hands are on the small side, and especially if you have issues with such things as arthritis or tendonitis, or simply want a flute that doesn't require you to spread your fingers much, we suggest the Small-Handed option.
Is the Small-Handed flute quieter?  Not at all. Most of the sound generation is due to the shape and effectiveness of the embouchure hole. Any effect of the resulting smaller fingerholes may be easily overcome by increasing the degree of undercutting, bore profile and other acoustical aspects. The best way to accomplish this design-wise is to make several hundred of these flutes – while trying to make each one better than the previous one. Casey Burns has done this, and his small-handed flutes hold up very well in sessions and performances.
Standard. This option has a slightly closer spacing than most of of the other flutes out there, if only by a few millimeters in some cases. However, these few millimeters make a huge difference (as does the slight offset of the ring finger holes with the Ergonomic hole alignment option).
Large-Holed Standard. This option is similar to the Standard except that the holes are farther down the body, and are slightly larger and spaced a little bit wider apart. These factors make the flute as resonant as possible. Playing a flute in this configuration requires larger hands, or playing "piping style" using the finger pads, instead of the finger tips. This would be a good choice for an experienced player. We still recommend the Small-Handed and Standard spacings for most beginning players.
Measurements of Finger Hole Spacing for All Three Options
Here are measurements of the finger hole spacings for Casey Burns flutes – measured center of hole to center of hole.
Between 1st and 2nd finger hole –  Small Handed 32mm, Standard: 35mm, Large-Holed: 35mm
Between 2nd and 3rd finger hole – Small Handed 31mm, Standard: 33mm, Large-Holed: 34mm
Between 4th and 5th finger hole –  Small Handed 31mm, Standard: 32mm, Large-Holed: 33mm
Between 5th and 6th finger hole –  Small Handed 29mm, Standard: 32mm, Large-Holed: 33mm
What the Folk Flute is not, and never will be:
a replacement for a professional performance instrument
made out of synthetic materials or "furniture woods" with poor tonal qualities
What doesn't come with the Folk Flute, and isn't offered as an option:
hard-shell case, end cap, rings, tuning slide, keys
customization of any kind
For more information on the Folk Flute, please see Casey Burns' Folk Flute page.